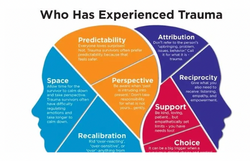 TRAUMA INFORMED THERAPY
A trauma-informed approach acknowledges the impact trauma can have, recognizes the symptoms and looks at how this can affect a person's understanding of the world and their relationships. This approach looks at how experiences of trauma can impact people and seeks to help them make sense of this in the context of their current lives.
Find out more, book a free consultation today and get connected with a therapist. To see which one of our therapists offers Trauma Informed therapy check out our teams page.