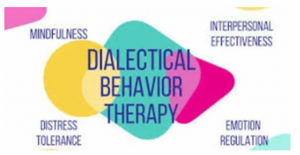 Dialectical Behavioural Therapy
Dialectical behavioural therapy was originally presented as an intervention for individuals diagnosed with borderline personality disorder and since then has been shown to be effective in treating a wide range of mental health needs and concerns including individuals who identify as having trauma histories. A main focus is to help folks develop a skills-based tool kit to allow for more adaptive coping and response behaviours. Dialectical behavioural therapy combines the principles of behavioural therapy with ancient Buddhist concepts of acceptance and mindfulness. DBT uses validation and problem solving to support clients, providing skills and tools to assist the client in changing behaviour. The main categories of DBT include: mindfulness, interpersonal effectiveness, emotion regulation, and distress tolerance.
Find out more, book a free consultation today and get connect with a therapist. To see which one of our therapists offers DBT therapy check out our teams page.