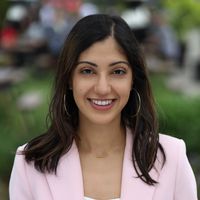 Rajni Sharma (she/her) MA, RP
My name is Rajni, I am a Registered Psychotherapist and have been practicing in the field for the last 12 years. Finding the right support and feeling a connection with your therapist is important. My passion and work is centered around creating healing spaces where folks can feel supported and not alone in their mental health journeys. The path of recovery looks different for everyone, and it is my goal to help individuals discover what that might look like for them. My work with clients includes, but is not limited too, exploring the mind-body connection to heal trauma, discovering how past experiences are connected to the present, unpacking thought patterns, regulating emotions, or learning how our challenges are connected to larger-system and structural realities that can be oppressive and impact our mental health. I help clients work on strategies and tools that can address some of the root causes of their challenges and build a sense of meaning. I am currently doing a Ph.D. in Community Psychology at Wilfrid Laurier University. My research is on ways of decolonizing the mental health space through the lens of social justice and radical healing.
Areas of Focus
I have experience with one-on-one therapy (in-person, telephone, online), as well as group therapy. I have worked with youth, adults, refugees/immigrants, and LGTBQ+ communities in clinical and community settings. My experiences have allowed me to tailor therapy to the needs of the client, whether for crisis intervention or long-term therapy.
Areas of focus include but are not limited to: Depression, Generalized Anxiety, Social anxiety, Drive anxiety, Grief/Loss, Stress/Acute stress.
Concerns may be related to: Childhood Trauma, Emotional Disturbance, Employment/Unemployment, Immigration/Resettlement, Motor Vehicle Accident, Life Transitions, Racial Trauma, Relationship Issues, Suicidal Ideation, Self-Esteem/Self-Confidence, Sleep Disturbances, Trauma, Work-Life Balance.
Support for BIPOC clients:
For clients who identify as members of BIPOC communities (Black, Indigenous, and/or Person of Colour) and are experiencing race-related stress/trauma and are hoping to seek a safe space to talk with a therapist who also identifies as a person of colour.
Approaches:
Narrative Therapy, Art Therapy, Mindfulness/Self-compassion, Cognitive- Based Therapy, Acceptance and Commitment Therapy (ACT), Strengths-based, Solution-Focused Therapy, EMDR.
EMDR (Eye Movement Desensitization and Reprocessing) is a therapeutic approach developed to help people heal from trauma or adversities such as issues of abuse, bullying, domestic violence, grief/loss, attachment wounds, abandonment, PTSD, and many other complicated life issues.
Education:
I am a Registered Psychotherapist and Art Therapist. I hold membership with the College of Registered Psychotherapists of Ontario (CRPO). I initially completed a graduate diploma in Art Therapy and then went on to complete a Masters in Counselling Psychology.
If you would like to connect further to explore if this is the right fit for you, please feel free to contact me or our office to arrange a free consultation.