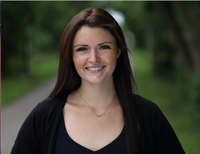 Kandice Lynn (She/Her), MA, RP
My name is Kandice and I am a Registered Psychotherapist. As a therapist I help people work through many different kinds of challenges, whether that is looking at how their day-to-day lives are being impacted or working through deeper-rooted concerns. There are times in life when we all struggle, helping individuals work through the challenges they face in life by walking beside them is my passion and is always the main focus in my work.
I believe that all clients are unique and are the experts in their own lives, in session I put this belief into practice by helping clients discover their own path to healing. With all the individuals I support I explore in-depth the concerns they are experiencing, including looking at the emotions and behaviours we attach to our experiences. In all my work I use a trauma-informed lens. A trauma-informed approach acknowledges the impact trauma can have, recognizes the symptoms and looks at how this can affect a person's understanding of the world and their relationships. From this approach I help clients understand how experiences of trauma can impact us all and seek to help them make sense of this in the context of their current lives. In addition to supporting clients, I also strongly believe it is important to continue to strive in my own growth and education, and to keep up with best-practice to ensure the best support for my clients.
Approaches:
The therapeutic modalities I primarily use are Cognitive Behavioural Therapy (CBT), Emotional Focused Therapy (EFT), and Dialectical Behaviour Therapy (DBT). The foundational approach I use with all of my clients is a Person-Centered approach, otherwise known as Client-Centered Therapy (CCT).
Areas of focus
I have experience working with individuals providing one-on-one therapy, from a variety of populations. I have experience working with youth, adolescents/teens, adults, and LGBTQ+ community. While my goal is to provide support to clients with a variety of needs, my areas of focus include: anxiety, depression, trauma, grief, relationship/family conflict, attachment, mood disorders, stress, phobias, suicide, LGBTQ+, and self-esteem.
Education:
I hold membership with the College of Registered Psychotherapists of Ontario (CRPO). I have a Masters of Arts in Counselling Psychology from Yorkville University, as well as a Bachelors of Arts with a major in Psychology and Minor in Family and Child Studies from the University of Guelph.
Clinical Supervision
As a part of my work and licensing, the College of Registered Psychotherapists of Ontario requires I participate in regular clinical supervision to ensure the integrity of services. This means I meet regularly with a Registered Psychotherapist to reflect on my practice with the intention of working to further develop my skills and learning in order to provide the best possible care to my clients.
Taking the first step in therapy can be overwhelming and intimidating which is why I strive to create a warm and welcome space for my clients. Please feel free to contact me or our office with any questions you might have.