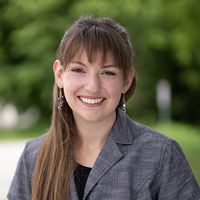 Jen DiCarlo (She/Her) SSW, MSW, RSW
I believe in a common humanity, which understands suffering as a universal human experience. What this means is that you are not alone. Even the feeling of isolation is part of the human experience. Whether you are feeling distressed, would like to deepen your understanding of your self, or would like to experience more joy and fulfilment in your life, I offer a safe space for you to unpack and be yourself. As someone who has personal experience healing from trauma, I have an appreciation for how past experiences and traumatic events can get in the way of our ability to form trusting relationships with others. Part of my work as a therapist is to work with you to demystify and gain a greater understanding of the roots to your unwanted feelings, thoughts, and actions that keep you stuck. With this understanding, we can move forward together to begin embracing a more purposeful and fulfilling life. I look forward to getting to know you and working alongside you in your healing journey.
Areas of focus
My areas of focus include addictions/eating disorders, anxiety, childhood trauma/attachment traumas, depression, discrimination/power imbalances, emotional disturbances, identity, LGBTQ+, life transitions, personal growth/development, relationship/family conflict, self esteem, spiritual seeking and exploration, stress, suicidal ideation, trauma/post traumatic stress.
Approach
My work as a therapist is built on a foundation of safety and respect. Healing can occur when we feel safe to open up, explore, and take risks in a supportive relationship. I practice from a trauma-centered lens that is rooted in attachment, systems, social learning, conflict, and psychodynamic theory. I also take an integrative approach, which recognizes the intimate relationship between our emotional, mental, spiritual, physical, and social wellbeing. In seeking to attend to the whole person, I use a variety of approaches including:
Somatization: Building awareness and fostering a re-connection with our physical body.
Emotion Focused and Mindfulness work: Building greater understanding and acceptance of thoughts and emotions held and experienced in the mind and body.
Trauma Processing: Processing and making meaning out of memories and traumatic experiences through Eye Movement Desensitization and Reprocessing Therapy (EMDR), talk therapy, art therapy, and body-focused work.
Therapeutic modalities primarily used: Eye Movement Desensitization and Reprocessing Therapy (EMDR), Emotion Focused Therapy (EFT), Narrative Therapy (NT), Acceptance and Commitment Therapy (ACT), and Somatic Body Movement.
Educational Background
I am a registered Social Worker (registered with the Ontario College of Social Workers and Social Service Workers). My educational background includes a Bachelor of Arts earned at the University of Guelph, where I majored in Psychology and minored in Family and Child studies. I then earned a graduate diploma in Social Service Work at Fanshawe College. Finally, I completed a Master's in Social Work at Wilfrid Laurier University.
EMDR Therapy
Trauma Recovery, EMDR Humanitarian Assistance Programs
Emotion Focused Therapy with Individuals (EFIT) (level 1)
Vancouver Couple and Family Institute
Integrative Trauma and Attachment Treatment Model (ITATM)
Attachment and Trauma Treatment Centre for Healing (ATTCH)