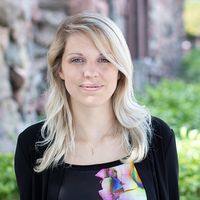 Heidi Sasek (she/her), MA, RP
To give you a better sense of my work as a therapist here is a little more about me. My desire to work as a psychotherapist began with my own personal journey and experience accessing counselling services. There are moments in life when we all need support, when we deserve to be respected and validated as we navigate challenges in our lives.
I am a Registered Psychotherapist and hold membership with the Canadian Counselling and Psychotherapy Association. My educational background includes a Masters of Counselling Psychology, a Post-Graduate Certificate in Addictions and Mental Health and a Bachelors of Arts and Science in Psychology and Biology.
The therapeutic modalities I primarily use are Narrative Therapy and Dialectical Behavioural Therapy (DBT). My work with clients includes, but is not limited too, looking at how the past may be influencing the present, unpacking behaviours, regulating emotions, interpersonal relationships, impulsivity, and increasing mindfulness. I have extensive training and experience with a biopsychosocial approach, and provide support that looks at people as a whole: physical, emotional, social and spiritual wellbeing.
I have worked alongside individuals with a range of concerns and have worked specifically with borderline personality disorder, personality disorders, trauma and complex trauma. Every person has their own unique experiences and stories which are as valid and true as all others. As a therapist I support folks to find balance and to validate the often opposing truths that exist in our realities. I work with my clients to recognize their needs and support them in creating meaningful change where desired. I help individuals recognize and make meaning of the broader cultural and social factors that have influenced them. In all my work I acknowledge the impact trauma can have and how this can affect our understanding of the world and the relationships around us.
Feeling a connection with your therapist is important, if you are interested in support and/or want to connect with me more please feel free to reach out to me! The first step can be hard and it is my goal to ensure that this is the right fit for you.
Areas of focus
I work alongside individuals experiencing a range of concerns and personal wellness goals. While I support individuals with a wide range of needs, my areas of focus include: relationship/interpersonal, personality disorders, self-esteem, anxiety, depression, stress, identity, self-harm, suicidal ideation, trauma and complex trauma, gender, finding balance, difficult life transitions, emotion regulation, personal development and wellness, LGBTQ+, young adult mental health (16-35 years) and adult mental health.
More on LGBTQ+: Folks identifying as being a part of the LGBTQ+ community experience unique challenges due to social contexts such as stigma, stereotypes, marginalization and oppression. It is important that this is addressed when providing mental health and wellness support, as it leads to unique stressors and challenges. As someone with lived experience and experience working with organizations serving the LGBTQ+ community, I strive to create a space to address these concerns and needs. Therapeutic Modalities: Dialectical Behavioural Therapy (DBT) , Narrative Therapy, Solution Focused Therapy (SFT) and Brief Solution Focused Therapy.
In all my work I apply a trauma-informed, anti-oppressive and strengths-based lens. I have extensive training and experience with a biopsychosocial approach, and provide support that looks at people as a whole: physical, emotional, social and spiritual wellbeing.
Clinical Supervision
As part of my work and licensing I myself participate in regular clinical supervision. Clinical supervision involves meeting regularly to reflect on practice with the intention of learning, developing practice and providing high quality, safe care to clients. This means I work regularly with someone who is experienced in both therapy and supervision to ensure the integrity of clinical services. The College of Registered Psychotherapists of Ontario recommends practice under supervision at all stages of licensing as best practice and requires it at others.