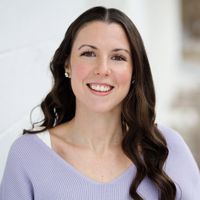 Anna Cosh (she/her) MA, RP
Hello! My name is Anna and I am a Registered Psychotherapist. My decision to become a psychotherapist was influenced by having support through difficult early life experiences and wanting to give this same support back to the world. I am passionate about supporting clients to see their self in a more positive light, and to find a sense of meaning and belonging in life. I strive to support clients to feel understood and to make sense of their own experiences.
Areas of Focus
Anxiety and Panic, Depression, Social Anxiety, OCD, Self-esteem Issues, Trauma, Emotion Dysregulation, Relationships, Stress, Anger Management, Bipolar Disorder, ADHD, Addictions (e.g., food, substance-use), Grief.
I have experience supporting clients towards the following:
Increased sense of safety

Improved confidence and self-esteem

Increased self-love and self-compassion

Communication skills, such as assertiveness and setting boundaries

Emotion regulation skills, including for high distress/panic

Secure attachment

Finding a sense of belonging, meaning, and purpose in one's life

Identifying how one's past might be influencing their present

Healthy habits, motivation, and self-discipline

Mindfulness
Approach
I use an eclectic approach according to clients' specific needs and goals. I tend to incorporate both past- and present-focused techniques, and techniques which work with one's thoughts, behaviours, emotions, and bodily (somatic) experience of emotions.
I also have a special interest in the intersection between mental and physical health (e.g., exercise and nutrition) and where desired, I can support you to find support in these additional areas.
The therapeutic modalities I primarily use are:
-Cognitive Behavioural Therapy (CBT). Focuses on identifying and modifying unhelpful thinking styles, beliefs, and behaviours.
- Person-Centred Therapy. Includes foundational counselling skills such as unconditional positive regard, empathy, and congruence.
-Dialectical Behaviour Therapy (DBT). Includes skills to support individuals towards increased mindfulness, emotion regulation, distress tolerance, and interpersonal effectiveness.
-Solution-Focused Therapy. Influenced by positive psychology, focuses on supporting clients to identify and amplify their strengths, and to identify and describe their future goals.
-Motivational Interviewing (MI). Uses techniques such as open-ended questions to support clients to increase their motivation to make change(s) in their life.
-Existential Therapy. Supports individuals to identify and explore their values, and to explore where they derive a sense of meaning and purpose in life.
Educational Background
I have a Bachelor of Science in Psychology from Queen's University and a Master of Arts in Psychotherapy and Spiritual Care from Wilfrid Laurier University. I am a member of the College of Registered Psychotherapists of Ontario (CRPO).
Thank you for taking the time to read my biography, and I look forward to connecting with you!