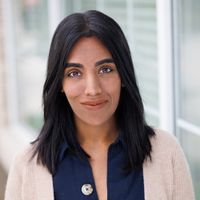 Amanda Sanichar (she/her/hers) RSW, MSW
Hi! My name is Amanda, in my work as a therapist I genuinely care about each client I get the privilege to work with, and I have empathy and compassion for the challenges they face. I want the clients I work with to know that they are not alone and that I'm there to support them. In session, clients often find me: down-to-earth, easy to talk to, gently encouraging of them to be curious and develop their own insights, and sensitive and attuned to their unique identity and diversity of needs.
Throughout my life, I've encountered my share of personal challenges. During these times, I found support and guidance through therapy, which made a significant positive impact on my well-being. Being humbled by my own experiences made me realize the power of therapy and the importance of having a safe and supportive space to access support.
In all my work, I bring in a trauma-informed lens. To me, this means recognizing that trauma can be anything that overwhelms a client's thoughts, emotions, and body, and that it can have a widespread impact on a client's life. I try to create a safe and supportive environment where we can work together to build a sense of trust and secure connection over time. I believe it is important to emphasize clients' resilience and potential for post-traumatic growth, and I try to do this by being fully transparent, consistent, and collaborative with my approach throughout our work together.
Areas of focus:
While I support clients with a wide range of needs, my areas of focus include: relationship/interpersonal, communication, addiction, anxiety, depression, Highly Sensitive Persons (HSPs), self-esteem, stress, finding balance, difficult life transitions, personal development and wellness.
Approach:
I have training in several best-practice approaches to counselling, including Cognitive-Behavioral Therapy, Dialectical-Behavioral Therapy, Emotionally Focused Therapy, and Motivational Interviewing, though my approach is tailored to clients' needs, and often grounded in attachment-focused therapy.
Attachment-focused Therapy:
My work as a therapist is most grounded in attachment theory. Attachment theory focuses on the ways in which early relationships, and relationships throughout a person's life, can shape a person's emotional and social development. In therapy, I use attachment theory to help clients explore and make sense of their patterns in relationships and emotions, in several ways:
By identifying a client's attachment style, we may be able to better understand how it could be affecting their current relationships and emotional experiences.
By recognizing attachment-related patterns, we may work on healthier ways of relating to others by improving communication, emotional intimacy, and sense of self.
Reflecting on past attachment-related wounds and traumas together can help clients to process and heal from these experiences.
Educational and Professional Background:
I am a Registered Social Worker (MSW, RSW), and a member in good standing with the Ontario College of Social Workers and Social Service Workers (OCSWSSW). I have an Honours Bachelor of Arts in Psychology: Research Specialism and Master of Social Work degree from Wilfrid Laurier University.
Finding the right therapist is really important. Studies show that the most important factor for a positive outcome in therapy is a good therapeutic relationship. I would be happy to connect during a free 20-minute consultation to discuss your needs, tell you more about how I can help, and answer any questions you might have. When you're ready, let's connect.